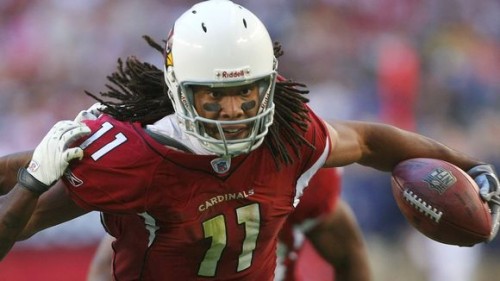 The Arizona Cardinals have resigned their star wide receiver, Larry Fitzgerald, to a new eight year $120 million dollar contract. The deal is one of the richest in the NFL and it guarantees the player nearly $50 million dollars, as well as keeping him on the team through the 2018 season.
The six years on the contract after 2012 are worth $17 million dollars each.
The $15 million average that his new contract pays him would tie him with the Raiders'Richard Seymour for the fifth-highest average among all players. The top four players are Peyton Manning (IND), Tom Brady (NE), Eli Manning (NYG), and Philip Rivers (SD). Fitzgerald and team president Michael Bidwill called a news conference Saturday night to announce the new deal.
At the news conference Larry stated "Growing up, since I was 7 years old, this has been the game I love and something I have been so passionate about," Fitzgerald said, "and to have to talk about it on the business side is a little bit uncomfortable. But I am really happy to put it behind us and it wouldn't be possible if it wasn't for the Bidwill family's hard work in making this thing happen."
Bidwill, son of the team's owner Bill Bidwill, said the Cardinals' wanted to have Fitzgerald retire as a Cardinal "but not anytime soon."
Fitzgerald also said "I am so fortunate. Not many players have that opportunity but Michael has allowed me that opportunity and I just want to repay him with great effort and winning. That is what is important."
Fitzgerald has topped 1,000 yards receiving in five of his seven NFL seasons, including the last four. He caught 90 passes for 1,137 yards last season even though Arizona had one of the worst offenses in the league while struggling to a 5-11 record, in large part because of poor quarterback play in the wake of the retirement of Kurt Warner.